Autumn Adventures in Liverpool: A Seasonal Guide to the City
As the leaves begin to turn and a gentle chill fills the air, Liverpool undergoes a remarkable transformation. It becomes a city bathed in the warm, golden hues of autumn.  It's a time when the city comes alive with a unique atmosphere, colours, and events that make it a fantastic autumn destination for visitors of all ages and interests. In this blog post, we're going to take you on a journey through Liverpool's autumn wonderland. From the vibrant parks and cultural festivals to mouth-watering comfort food and artistic expressions. This guide covers a wide range of activities that will ensure you make the most of this enchanting season in the city.
Nature your thing? We have you covered.

Liverpool's parks and green spaces take on a breath taking beauty during the autumn months. Whether you're a nature enthusiast, a photography buff, or simply looking for a tranquil spot to unwind, places like Sefton Park and Calderstones Park are your go-to destinations. Don't forget to pack a picnic and your camera to capture the stunning fall foliage. Calderstones Park, in particular, bursts into a symphony of reds, yellows, and oranges, making for a picturesque backdrop. Don't forget to bring along a cosy scarf and a hot drink to keep warm!
Exploring Liverpool's Best Seasonal Events
Liverpool truly knows how to celebrate the season, with a line up of autumn events that promise unforgettable memories. Mark your calendars for the Halloween celebrations that will send shivers down your spine. We'll provide you with all the essential details, so you won't miss a thing.
Shiverpool's Hauntingly Good Autumn Adventures.
If you're looking for a spine-tingling adventure this autumn, look no further than Shiverpool's hauntingly good events. During these 90-minute guided tours, you'll delve deep into Liverpool's eerie past, exploring Victorian morgues and other spooky locations that have witnessed their fair share of chills and thrills. Shiverpool events run daily throughout the autumn season, making it easy to fit into your schedule. Tickets for these hair-raising experiences start at just £19.50, offering an affordable way to add a dash of darkness to your Liverpool adventure.
Planning on Pumpkin Picking?
For those who prefer their Halloween celebrations in the comforting glow of daylight, Claremont Farm has you covered. Starting from October 7th, you can embark on a pumpkin-picking adventure that's perfect for families and daytime enthusiasts alike. At Claremont Farm, you'll find a pumpkin patch brimming with a variety of sizes and shapes to choose from. Prices vary depending on the size of the pumpkin you select, ensuring there's an option to fit every budget. You could even bake Pumpkin Pie afterwards, here's a recipe.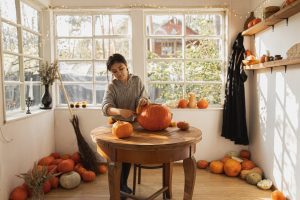 For All The Foodies Out There.
Autumn isn't just about sights and sounds; it's also about taste. Liverpool's culinary scene takes on a comforting twist in the autumn. Cosy cafes, restaurants, and pubs serve up seasonal delights that warm the soul. We highly recommend trying local favourites like scouse, a hearty stew, or hot pot, a savoury meat and potato dish. These dishes are the perfect way to combat the autumn chill and savour the flavours of the season.
Whether you're in the mood for a hearty roast or classic pub fare, we've got the perfect spots for you.
The Railway on Tithebarn Street: Nestled in the heart of Liverpool, The Railway on Tithebarn Street is a hidden gem that beckons with warmth and hospitality. As the temperatures drop, their mouth watering roasts and classic pub dinners become even more inviting. Picture this: settling into a snug corner with a pint in hand, the comforting aroma of a Sunday roast wafting through the air. It's the quintessential autumn experience you won't want to miss.
The Monro on Duke Street: If you're in the mood for a delightful pub dinner, head over to The Monro on Duke Street. This charming establishment offers a warm and welcoming atmosphere, perfect for enjoying a delectable meal with friends or family. Their menu is a celebration of classic pub favourites, sure to satisfy your cravings and keep you cosy on those cool autumn evenings.
Liverpool's cosy cafes offer a delightful escape from the chill. Whether you have a sweet tooth for baked goods or crave a warm cup of coffee with vegan and vegetarian options, we've discovered two must-visit spots.
Baltic Bakehouse: Tucked away in Liverpool's Baltic Triangle, the Baltic Bakehouse is a haven for baked goods enthusiasts. This bakery is famous for its artisanal bread.  As the leaves turn golden, their freshly baked loaves take on a special warmth. Whether you're seeking a hearty sourdough for toast on a crisp autumn morning or a sweet pastry to pair with your afternoon coffee, Baltic Bakehouse has an array of options that will keep you coming back for more.
Organico: If you're in search of a cosy café with a focus on health-conscious dining, Organico is the place to be. Situated in the heart of Liverpool, this café boasts a menu brimming with vegan and vegetarian delights, making it the perfect spot to warm up on an autumn day. Sip on a steaming cup of coffee while indulging in a hearty, plant-based meal. It's the ideal choice for those who want to nourish their bodies and souls during the season of change.
These cafes not only provide delectable fare but also offer a welcoming escape from the autumn chill. As you explore Liverpool this season, be sure to carve out some time to visit these delightful establishments.
And this ones for those rainy days!
For those inevitable rainy autumn days, we've got you covered with indoor activities that will keep you entertained. Liverpool boasts a wealth of museums, galleries, and cultural institutions like the Tate Liverpool and the Museum of Liverpool. Check out our recommendations and stay dry while immersing yourself in art and history. Keep an eye out for special exhibitions and events happening during this season. They often provide unique insights into Liverpool's history and artistry. Liverpool's thriving arts and theatre scene is particularly vibrant in the autumn. Keep an eye out for upcoming performances, plays, and art exhibitions taking place throughout the city. Don't forget to book your tickets in advance and explore the diverse venues that Liverpool has to offer.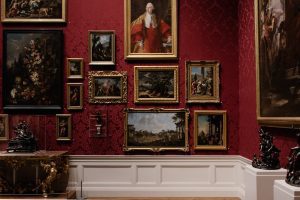 Let's wrap up our journey through Liverpool's autumn wonderland. We hope you've been inspired to embrace the enchanting charm of this vibrant city during the fall season. Liverpool truly transforms into a place of wonder. Every street corner, park, and venue bursts with the magic of autumn.
As you embark on your autumn adventures in Liverpool, remember to share your experiences with us  over on our socials!
@urbanevolutionpm over on Instagram
Urban Evolution on Facebook
Urban Evolution on LinkedIn
We'd love to hear about your favourite spots, memorable moments, and any hidden gems you discover along the way. Stay tuned to our blog for more tips and recommendations.