Are you searching for the perfect student accommodation in Liverpool? Look no further than The Exchange.
The Exchange is a vibrant and modern residence designed to cater to the needs of both undergraduate and mature students. With over 600 rooms comprising of en suites and studios, The Exchange offers a thriving community where you're bound to make lasting friendships. As you embark on your academic journey, let's explore why The Exchange should be your top choice for the September 2024 academic year.
A Variety of Rooms to Suit Your Preferences:
At The Exchange, we understand that each student has unique needs and preferences. That's why we offer a range of standard, deluxe, and premier student rooms. Whether you desire a cozy and comfortable space or a more luxurious setting, you'll find your perfect fit here. Rest assured, all our rooms come with bills included, so you can focus on your studies and enjoy a hassle-free living experience.
Unparalleled Facilities and Amenities:
When it comes to amenities, The Exchange sets the standard for student accommodation. From the moment you step through our doors, you'll be greeted by a concierge service dedicated to making your life easier. Our residents' lounge and social spaces provide the ideal setting to relax, socialize, and connect with fellow students. For studying, we offer well-equipped and quiet study rooms, ensuring you have a conducive environment to excel academically.
In your downtime, you'll find an array of activities to enjoy. Challenge your friends to a game of pool or ping pong in our recreation areas. Unwind in our media rooms, catch up on your favorite shows or movies, or even host a movie night with your neighbors. With 24/7 security, you can have peace of mind knowing your safety is our top priority.
Fitness and Wellness:
Taking care of your physical and mental well-being is crucial during your time at university. That's why The Exchange offers a state-of-the-art residents' gym equipped with modern facilities to help you stay fit and healthy. Stay motivated as you work out, surrounded by like-minded individuals who share your dedication to a balanced lifestyle.
Location, Convenience, and Uni Kit Out Offer:
Situated in the heart of Liverpool, just next to Liverpool Lime Street Station, The Exchange offers unparalleled convenience. With both the University of Liverpool and John Moores campuses within walking distance, you can say goodbye to long commutes and enjoy easy access to your classes and the vibrant city atmosphere. As an added benefit, we have partnered with UniKitOut to offer tenants a fantastic offer, providing a 10% discount on essential items to help you settle into your new student life.
Immerse Yourself in a Day at The Exchange:
Watch our captivating "A Day in the Life of an Exchange Student" video and get a glimpse of the vibrant community and exceptional facilities that await you. Click here to watch the video and join us on TikTok (@urbanevolution123) for more exciting videos showcasing our properties. Stay connected and be the first to experience the extraordinary student lifestyle at The Exchange.
The Best Student Lettings in Liverpool:
At Urban Evolution, we take immense pride in managing Liverpool's best student accommodations, including the renowned property, The Exchange. We are honored to have received the esteemed recognition of being voted Liverpool's best student lettings by Unifresher. Discover more about our award-winning management here and join us for an extraordinary student living experience in Liverpool.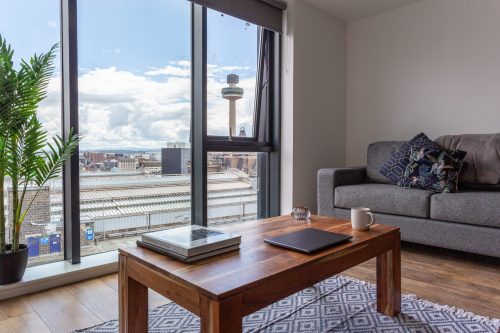 Contact Us Today:
Are you ready to embark on a remarkable student living experience at The Exchange? Contact us today to learn more about our accommodation options, facilities, and availability. Our friendly team is eager to assist you and ensure that your time in Liverpool is truly unforgettable. Don't miss out on this opportunity; secure your spot at The Exchange today!
Choosing the right student accommodation is a vital part of the university experience. At The Exchange, we go above and beyond to create a welcoming and supportive environment where you can thrive academically, make lifelong friendships, and create memories that will last a lifetime. With our wide range of rooms, outstanding amenities, convenient location, and exciting Uni Kit Out offer, there's no better place to call home during your academic journey in Liverpool. Contact us today and embark on an extraordinary adventure at The Exchange.