Exciting Updates and Opportunities at Queensland Place
Reach out to our team and become a landlord today!
An Update for Our Previous Landlords
Queensland Place has undergone a remarkable turnaround in its rental landscape. The exodus of landlords, driven by past challenges, has given way to a vibrant market. Today, our accommodations are in high demand and our rooms at Queensland Place are now at full occupancy. Students eagerly await available rooms, underscoring the appeal of Queensland Place residences.
In response to past hurdles, we've worked diligently to enhance every aspect of our operation. The Queensland Place team has taken concrete steps to improve our office teams' efficiency, ensuring transparent communication with landlords and tenants. Our property managers have been meticulously trained and restructured for seamless coordination, promptly addressing any concerns. We've also revamped properties and amenities, reflecting our commitment to improvement.
Tangible results are surfacing from these organisational and infrastructural investments. Our rental rates have been adjusted to current market conditions, with an average of £114 per week across over 300 rooms successfully let this year.
Even more promising returns lie ahead for our valued landlords. Projections confidently indicate that en-suite rooms could command a minimum of £110 per week, while studio apartments could reach £170 per week.
At Queensland Place, we're ready to usher in a new era of prosperity, with a steadfast commitment to delivering an exceptional experience for landlords and tenants alike. Our focus is firmly on the positive, shining a light on our successes. 
Whilst the current occupancy at Queensland Place is full, we are excited to inform you that prospective tenants are eager to sign on should you decide to rejoin the Urban Evolution community.
Communication is at the heart of our commitment to excellence at Queensland Place. We've embraced a cutting-edge industry system, widely recognized as the best, to drive a transformative change. We're currently in the migration phase, and within days, we'll go live. This transition promises a substantial boost in service levels, setting new standards.
Our new team is poised to provide unparalleled support. With our rooms achieving a remarkable 100% occupancy, the demand speaks for itself. Our surplus of leads, combined with closing the student window, ensures your investment will yield excellent returns. Leveraging this success, we've secured attractive rental prices.
Seize this opportunity to be a part of Queensland Place's thriving community. Contact us today via the form provided. Let's embark on this journey together towards prosperity and success.
What your tenant can expect at Queensland Place
Residents get access to a fully equipped gym, residents' social area, TV lounges, games room & student events! 
All rooms come fully furnished with study desk & chair, 3/4 bed, wardrobe, high-speed wi-fi & bills included.
Moving with friends or want to meet others like you whilst studying? Our en suites come in a range of 4-7 beds! A large communal kitchen/living space connects to our well designed en suite rooms. They come with a desk and your very own bathrooms, so no need to clean up after everyone else!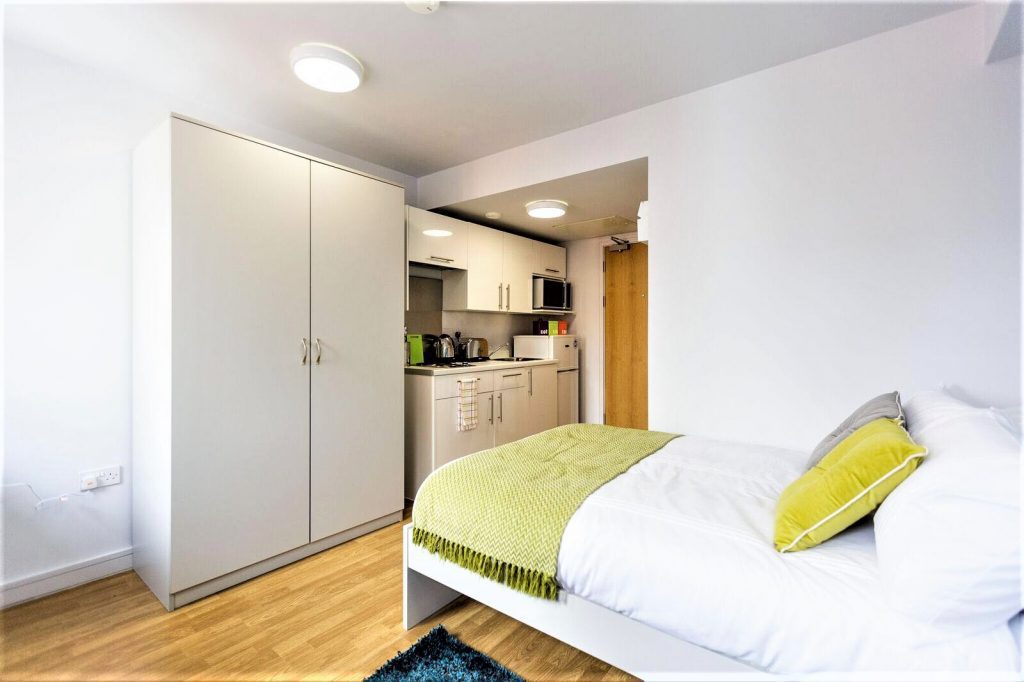 Our purpose-built, self-contained stylish student studios offer comfort without sacrificing compatibility. Modern fitted kitchenette, a study desk with a comfortable chair, 3/4 bed and space for storage. Perfect if you enjoy your own space. 
Here's a list of popular and important student destinations and how long they take to walk to.
Modern Spaces For Modern People
From first contact our property managers will look after you – whether that means arranging a viewing, getting you sorted with contracts or just giving you some information on the local area. They are there with you through the whole renting journey. 
Seize higher returns today
Choose Urban Evolution as your partner!