How to Manage your Student Money at University
Going to University this year? Worried about managing your money? We know receiving a hefty student loan in a new city can be thrilling however we want to make sure you don't spend it all at once. You don't want to be scraping for penny's come Christmas time. The Bank of Mum and Dad and the student loan can only stretch so far, especially in a cost-of-living crisis. Here are 7 student money tips on everything from management, saving and earning!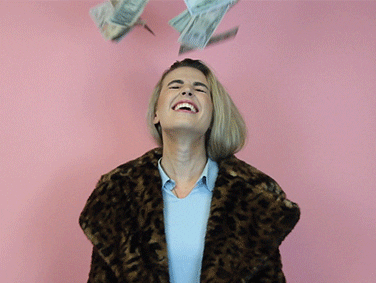 Get a student bank account
Having a student bank account gives you a safety net which allows you to go into an overdraft of up to £1000. You can simply ring your current bank and set up your own overdraft amount. This allows you to dip in and out of it when you need.
A student bank account has been a life saver for a lot of students, however its important to note that it doesn't last forever, most student overdrafts finish up to a year after you have graduated university. So, make sure you have it paid off by then to avoid high interest charges.
Milk Every Last Bit of Student Discount
Student Discounts are everywhere! It's all about knowing where to look or simply asking at check out. Download apps such as Student Beans, UNIDAYS and Save the Student, here you will find unlimited discount to your favourite food spots, clothing websites and so much more.
Make sure you are carrying your student card with you 24/7! This can be useful when walking about the city. Small start-up businesses and independent stores or cafes often offer student discount to engage students.
Take on a side hustle
Balancing a part time job and university is achievable! You just have to find a job that works around your university timetable. Take a look at your university website or reach out to your university employability team. Universities are always looking for students for marketing roles, gym or library receptionists, even help with open days.
Another great way to earn some pocket money is to join an events recruitment agency. The best thing about temporary recruitment agencies is that you can choose you on shifts to work around university. Arc Recruitment Agency works with students across cities in the UK to offer part time shifts at football stadiums, Christmas markets, concerts and much more!
Be smart with food
Aldi and Lidl will be your best friends as a student. They are no doubt the cheapest places for your weekly shop. The harsh reality is that you can't afford to eat steaks every night although you can buy a 60p bag of pasta and make that last a week!
If you haven't got the "Too Good to Go" app, get it now! This app lists all the cafes and restaurants that are throwing out pasties, sandwiches, and meals at the end of the day. On your way home from university, you can stop at Costa and pick up a big bag of goodies for only £3! If you are an o2 member, download the priority app now and get daily freebees! O2 users can get a free Greggs coffee, breakfast barm and even free drinks at selected bars during the week.
Free things to do in the city
No matter where you are whether it is, Liverpool, Newcastle, Sheffield, Luton or Nottingham there is always free things to do.  Most cities and large towns have amazing free attractions, view points and monuments. Tate Museum for example is a hot spot for Liverpool students. You can walk into any Tate Museum in the UK free of charge. There you will find modern art collections and insta worthy exhibitions.
Every city also has its very own China town. Why not take a trip to your nearest China village and embrace in the vibrant culture, decorated gateways and quirky cafes?
Travel Smart
Save money by getting up 10 minutes earlier and walking to university. The best thing about Urban evolution student accommodation is that most of them are no more than a 15-minute walk to University! So you don't need to worry about spending money on daily transport. If you fancy getting a bus, take a chance and ask for a child ticket. You may be slightly humbled if they ask you to prove your date of birth although its work a shot! PS. Don't do this if you have a beard, it probably won't work.
Student Hardship funds
Apply for a hardship fund, yearly! I cannot stress this enough. In 2021 the UK Government invested £50 million in University Hardship funds. This is a grant so no need to worry about paying it back. It can also range from £100- £2000, depending on your student 'hardship'.
To apply for this grant, you will be asked to write a personal statement. If you want to get as much as you can out of this fund, exaggerate everything! The more depressing the personal statement the more money you can receive. You can apply for Student Hardship Funds on your university website.
Following these simple 7 student money tips can save you a lot of money throughout your time at University. Follow our socials to keep up to date with more Student advice from city guides to tenant tips!